In this review we feature the top 10 best over ear bluetooth headphones of 2021 that deliver stunning audio performance, comfort and bluetooth streaming at the best prices. Some of these headphones feature active noise cancellation technology in addition to bluetooth streaming, which makes them perfect for travel companions or for those who want to enjoy listening to music without ambient noise. These best over ear bluetooth headphones deliver stunning audio performance with impactful bass response, clear and crisp highs and mids and feature high quality bluetooth audio streaming. At the time of writing, some of these headphones are selling at a discounted price so be sure to check them out!
#1 Samsung Level Over-Ear Bluetooth Headphones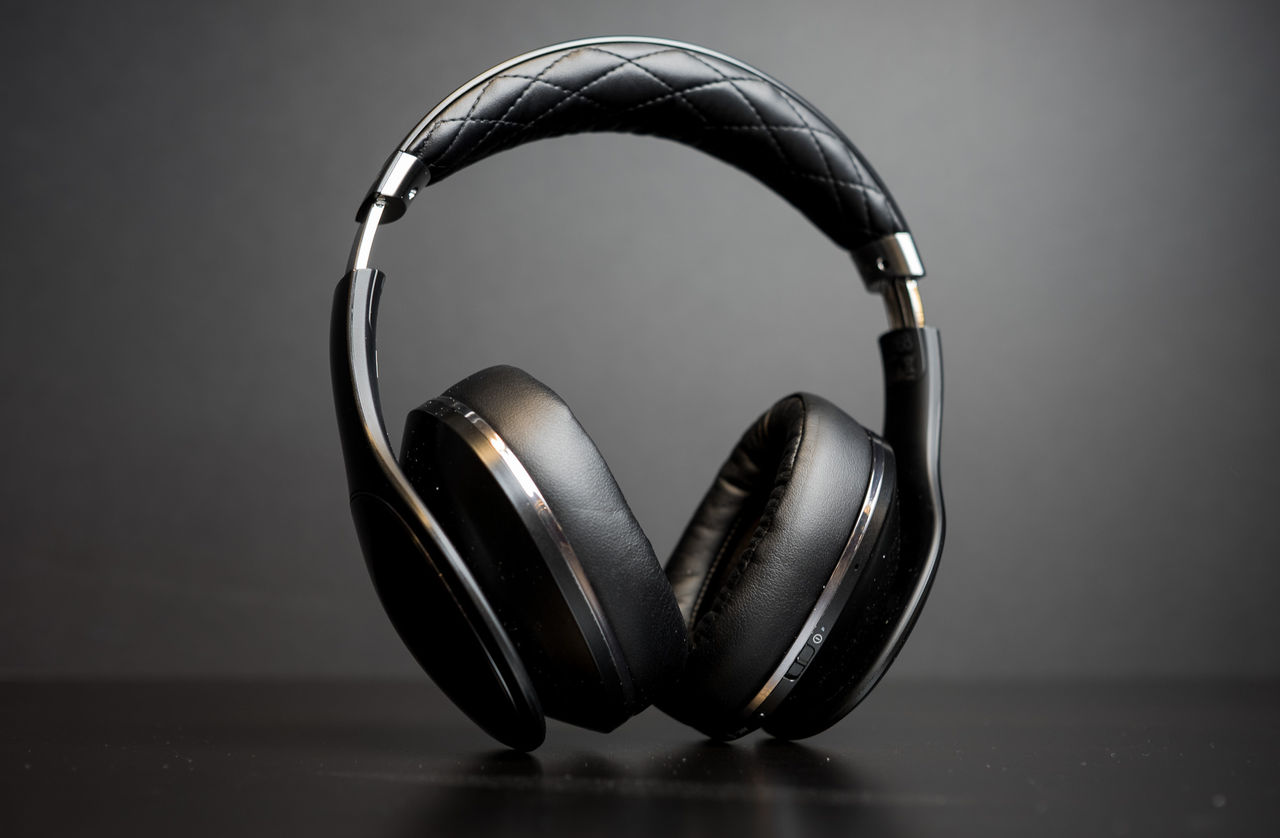 The Samsung Level is one of the best over ear bluetooth headphones with great features and versatility, offering both 3.5mm wired and bluetooth wireless connectivity. It even comes with an active noise cancellation for crystal clear music and calls. These headphones come with Smart Touch button free controls, S-Voice and smart commands for phone connectivity, Bluetooth 3.0 compatibility and a whopping 15 hours of talk/listening time. The Samsung Level Over utilizes an analog/digital hybrid scheme to create a superior active noise cancellation, and a specially designed EQ circuit to maintain the sound color even when the cancellation function is engaged. Overall, the Samsung Levels are one of the best over ear bluetooth headphones that you can buy – and comes equipped with everything you need to take them on the go.
The Samsungs are designed slightly bigger than most over ear headphones; and while these may be slightly heavier they cover your entire ear. We thought that the weight might be an issue but these are actually very comfortable to wear. As a wireless bluetooth headphone the Samsung easily pairs to your source so you can listen without being plugged in. The Samsung headphones works well with Android and Apple devices without any issues. It also comes with an handy app "SoundAlive" option which lets you control the treble and bass. We have been as far as 25 feet from the source and did not lose connectivity, which is quite an impressive range for over ear headphones.
The good thing about the Samsung noise cancelling is that it comes with a rechargeable battery that lasts about 15 hours depending on your usage. That's not bad and it comes with a USD charger so you can easily recharge on the road. Unlike other headphones, you can also turn the noise cancelling on or off on the Level without turning off your music. We did not detect any "hissing" when the noise cancelling was turned on.
Where the Samsung Level clearly shines is in the sound performance. When we compared the Samsung to the Bose Quiet Comfort, we found that both produce excellent sound. The mids and the highs are clearly emphasized, and the bass is particularly clean and punchy with the noise cancelling turned on. The Samsung has great clarity with powerful bass, and the bass is not overly emphasized and does not cause listening fatigue. At this price point you'd expect very good sound and you won't be disappointed.
The Verdict? We really liked the smart features and sound performance of the Samsung Levels. It also comes with travel cases which are nice, semi-hard cases that protect your headphones on the go, together with a remote, airplane adaptor and detachable audio cable. They come highly recommended because of their extreme comfort, smartphone features and superior Bluetooth connectivity, and deliver stellar audio performance that rivals or exceeds that of the Bose Quiet Comfort 15. If you are looking for one of the best over ear bluetooth headphones of 2018, the Samsung Levels are easily among the best and value for money.
#2 Audio-Technica ATH-S700BT Over Ear Bluetooth Headphones
The Audio Technical ATH-S700BT is one of the best over ear bluetooth headphones you can find at an unbeatable price. These headphones feature 40 mm drivers for very good sound reproduction and efficient signal transfer. The housings are designed with an acoustic chamber that's separate from the electronics to maximize driver performance; it also comes with an in-built amplifier to boot. The ATH-S700BT offers clear, full-bodied audio reproduction with Bluetooth wireless operation. The headphones are equipped with a mic, music and volume controls allowing you to answer calls, adjust volume and handle playback. These headphones can pair up to eight bluetooth wireless devices, and a 1.2 meter smartphone cable with mic and controls is also provided for auxillary input.
We found the over ear design very comfortable, and the ear cups fit nice and snug. The material feels soft and super comfortable to wear, and you can literally wear these for hours long without any giddiness. These headphones are very light with a large over ear cup design.
The audio performance of the ATH-S700BT makes these headphones truly formidable. They sound remarkably good for a bluetooth headset – we tested these headphones alongside Bose Quiet Comfort, Beyerdynamic, Audio Technical (AD900) and Sennheiser, and found the ATH-S700BT's performance to be equal to their more expensive counterparts. The sound from these headphones are punchy but not middy and are bright. They have just enough mids and do not overpower. It has a very warm and balanced sound signature. We were truly impressed by the ATH-S700BT and can safely say that they are among the very best sounding bluetooth cans we have tested.
Furthermore, these cans do have the acoustic capability of being very loud at maximum volume. The bass quality is very pleasant and does not overpower the treble or highs; it evens reverbs at very low ends which is quite surprising; these headphones feel like they are wired and hooked up to a standalone amplifier. In terms of sound performance, you truly cannot go wrong with these headphones.
The Verdict? The ATH-S700BT are a truly stunning set of cans and one of the best over ear bluetooth headphones you can buy with amazing sound performance at a low price. The comfort on these headphones is stop notch and you will not feel any pain wearing these for extended periods of time while watching movies or gaming. We were totally blown away by the sound performance of these headphones and definitely recommend these to anyone looking for a great pair of over ear headphones without the high price tag. At the time of writing, these amazing over ear bluetooth headphones are selling at a very good price point, so don't forget to check them out!
#3 V-MODA Crossfade Over Ear Bluetooth Headphones
The V-MODA Crossfade is hands down one of the best over ear bluetooth headphones as far as design and sound performance are concerned. It comes with its signature sound both in wireless mode via Bluetooth and wired mode for pure analog and zero latency essential for gamers and audiophiles. These cans have an amazing playtime of 12 hours with its lithium ion battery and you can recharge it to 100% using the micro USB cable included in the package, or enjoy unlimited hours of music in analog wired mode. The dual-diaphragm 50mm driver provides very good speaker consistency, balanced air-flow and mechanics that make these cans sound amazing. It even includes a luxurious combination of steel and new vegan leather, memory foam cushions and sturdy headband that provides that extra comfort for extended listening sessions and natural noise isolation.
The sound on these headphones is phenomenal. The bass hits hard with plenty of impact, remains tight and reaches deep. We were very surprised with how deep these headphones reach and deliver such an impact with the bass. The sound signature leans towards the warmer side but there is plenty of detail and texture and for portable mobile devices, it's the perfect amount of bass as the low end is the first part of the frequency to go when there is a loud environment. The lows give the overall sound plenty of body and warmth and depth, without sounding slow at the least. The sound is very clean and tight and enjoyable to listen to.
The mids align nicely with the rest of the spectrum; they are not in your face or pushed forward in any way, and there are not recessed in the least. The male vocals sound deep and smooth and female vocals sound very natural and not overly bright. There is a great clarity and instruments have a nice sense of presence without muddling – it feels as though you are in the orchestra-section at the concert. The highs on these over ear bluetooth headphones are sparkly without harshness – they are smooth and nicely extended. This is a great feat because you have to have some sparkle for high hats, trumpets and brush strokes to sound accurate with the right timbre. These are really amazing headphones that sound incredible and do not produce any ear fatigue.
The soundstage and imaging on these headphones are equally good, providing good width and height. When we tested these headphones we felt that the sound was more intimate, as though we were in a deep and wide room. These headphones are an audiophile delight, and are warm and sweet to listen to. The noise isolation on these cans are good for a closed set of headphones.
The Verdict? The V-MODA Crossfade are a stunning set of headphones that deliver musical, detailed, natural and excellent sound that any audiophile will enjoy. The fact that these headphones are wireless is incredible icing on the cake. These headphones do not compromise on sound quality even on NFC bluetooth pairing, so you enjoy the best of your soundtracks at the convenience of your mobile device. Most importantly, these best over ear bluetooth headphones are selling at an amazing price point – V-MODA did not boost up the price for its additional bluetooth capabilities. The over ear design is extremely comfortable and you can use the XL earcups for more comfort if needed. In sum, these are easily among the best over ear bluetooth headphones we have listened and tested and work great for every kind of music you can throw at it, although they sound even better for modern, rock, rap, hip hop, electronic types of music.
#4 Bose QuietComfort 25 Over Ear Bluetooth Headphones
The Bose Quiet Comfort 25s are the best over ear bluetooth headphones in the Bose range of bluetooth headphones and excel in active noise cancellation. It also delivers deep, crisp, powerful sound with a stunning bass impact, and features an inline mic/remote for music and calls. The QC25s active noise cancellation technology monitors the noise around you and cancels it out extremely well, and is the perfect travel companion for those on the road or airplane. These headphones are super comfortable, durable and made to last. They come with earcups that pivot to fit into a small carrying case, and also come with a microphone cable, airline adaptor and carrying case for added convenience. In sum, the QC25s is Bose' best noise cancelling and over ear bluetooth headphone to date.
The QC25s sound phenomenal after a burn in time of approximately 100 hours – you'll notice the difference as compared to straight out of the box. After burn-in, the QC25 puts out a superior sound performance and wide sound stage with harder hitting bass. The QC25s noise cancelling is excellent and industry-leading; even at low volumes, you can block out most ambient noises and idle chatter, making these headphones "quiet" indeed. The QC25s run on a single AAA battery and is perfect for portable use.
In terms of comfort, the QC25s are extremely comfortable due to the light weight and light pressure ear cups. This is very beneficial especially if you have a large head. These headphones literally disappear on your head and you can wear these for hours long without feeling any listening fatigue. The soft foam memory cushion in the QC25s is among the most comfortable over ear pieces we have tested, and are much more comfortable than they look. Furthermore, the QC25 headphones come with a very compact case and folding the headphones is easy, making them extremely portable.
The QC25s have a warm and evenly balanced sound signature which is a step up from the previous QC15s. The bass is hard hitting and not as "in your face" as the QC15s. It also has a more 3D sound and dynamic soundstage, and you will hear the complexity of base lines that you never noticed. The drum tracks will sound like drums, bass guitar will be noticed for the first time on songs, along the highs are somewhat lacking. Pop music, rap and hip hop will sound as though you have kicker bass speaker in your car. In short, if you are a bass lover and want an excellent over ear bluetooth headphone with active noise cancellation, the QC25s are the ones to get.
The Verdict? The Bose QC25 are the best over ear bluetooth headphones produced by Bose to date, with an active noise cancellation that's at the top of the line of industry standards. If you are looking for a set of bluetooth headphones that are super comfortable, sound great for bass heavy soundtracks and are portable for travel, the Bose QC25s are the clear choice. Do note that at the time of writing, the Bose QC25s models are designed specifically either for Apple iOS devices or android/Samsung devices so you have to choose which model better suits your listening needs.
#5 Sony MDRXB950BT/B Over Ear Bluetooth Headphones
The Sony MDRX-B950BT is a remarkable headphone and one of the best over ear bluetooth headphones available in the market at a very affordable price. Designed for bass lovers, these headphones have bluetooth audio streaming with AAC and apt-X support and electronic bass boost circuitry for added bass emphasis. It also has 40mm drivers for wide frequency response, built-in microphone for hands-free calling, comfortable around-the-ear design with sophisticated swivel design for portability, and a rechargeable battery that delivers a whopping 20 hrs of music and passive mode for normal, corded operation without battery. Feature-wise, the B950BTs are one of the most versatile and technically sophisticated headphones we've tested.
The sound quality of these headphones are incredibly outstanding for the price – we even thought that Sony was actually undercharging for these cans! Although wireless headphones sometimes lack bass, the B950BT do not have this problem and can certainly rock the bass, which is excellent for hip-hop, rap, electronic dance music and a lot of modern pop music. With the add-on extra bass feature, you can ramp up the bass without taking away from the mids and highs, which gives a pretty solid and crisp sound output. The overall sound signature of these headphones is warm and crisp sounding.
These headphones are designed to be extremely comfortable – in fact, they are so comfortable you can even use them as ear muffs during winter. The ear cushions are very comfortable for long term wear. You can wear them on for hours long without experiencing any ear fatigue and their over ear design is exactly what you need especially if you have a larger head. The headphone itself comes with an NFC Easy Connect app which works well and makes connecting to your phone via Bluetooth a breeze. The Bluetooth connections are solid, the range is good, and there is no leakage. The build quality of these headphones is excellent and made out of metal and higher quality plastics, and the battery life of 20 hours is a definite plus.
What makes these set of headphones so special is that they sound like high-end headphones that cost way more but come at a fraction of that price. This boils down essentially to a matter of brand choice and price; if you aren't fussy about the brand and want to focus on bluetooth and sound performance, these over ear headphones will deliver extraordinary performance. These are closed headphones with noise isolation and will not let your music leak out; although we found that the ear pads are thick and make the headphones slightly bulky, it's definitely worth the slight hassle for nearly silencing the outside world and immersing yourself in your music. You cannot go wrong with the Sony B950BTs.
The Verdict? We highly recommend the Sony B950BTs as one of the best over ear bluetooth headphones you can buy for this combination of audio quality, bluetooth pairing, comfort and excellent build quality. These headphones have pretty deep ear pads and will cover the entirety of your ear without touching the inside of the ear cup. It also comes with a bass-boost add-on, although we found this feature unnecessary because the bass impact can be felt without turning it on. The best part about these headphones is that they sound like expensive Sennheisers or Beyerdynamics, but come only at a fraction of the cost while delivering competent and solid audio performance. At the time of writing, these amazing headphones are selling at a very good price point, so don't forget to check them out!
#6 B&O PLAY by Bang & Olufsen Beoplay H7 Over Ear Bluetooth Headphones
The B&O Play H7 lives up to its expectations as one of the best over ear bluetooth headphones, featuring intuitive aluminium touch interface, 20 hours of rechargeable battery and luxurious materials for you to enjoy music on the go. The cans itself are extremely comfortable and made of soft memory foam and genuine lambskin leather. The H7s sound performance its incredibly well balanced, producing deep and solid bass and all the nuances you can want in the mid and high tones. You can also answer phone calls, change soundtracks or adjust the volume with a single touch. If you are looking for extremely well-constructed, luxurious and amazingly good over ear bluetooth headphones, the H7s would be your best pick and highly value for money.
The H7s are super comfortable and beautiful cans. It performs remarkably well without any loss of sound quality with its signature B&O sound, not to mention the carrying comfort as already mentioned. Although these cans are slightly heavier than their predecessor H6s, it does not cause fatigue at all. The sound on these cans is exciting and well balanced, with crisp highs, mids and a good deal of emphasis on the bass. The best part is that all this sound comes from an in-built amplifier within the H7s circuitry so you don't have to get a dedicated amp, unless you want an auxillary input. The battery life on these headphones is insanely long (up to 20 hours). We had these cans running at 3hours per day for a week on a single charge and it's still pumping out juice. That said, we do feel that the H7s sound their best when plugged in, although they fair almost as well in bluetooth mode.
Compared to other headphones in this price range such as Bowers and Wilkins, we found that the B&Ws were slightly clearer, but none of them had the acoustic "punch" and impact of the H7s. You can literally feel small air pressure changes from the music while wearing the H7s, and the sound feels engrossing. The H7s definitely are one of the best over ear bluetooth headphones in terms of acoustic performance and impact, and is perfect for rock, pop, hip hop, EDM and other types of bass heavy music.
Comfort-wise, the H7s are hands down one of the most comfortable and soothing headphones we have ever tried. It feels extremely well-constructed, and the lambskin is extremely soft and feels expensive – you know that you are getting true quality out of these headphones with the solid material construction of these cans. Compared to the H8s, these are not noise cancelling headphones and they actually sound better than the H8s because it strives for audio performance. The bluetooth is extremely easy to connect; just ensure that your device is discoverable by pressing the bluetooth button and it will connect automatically.
The Verdict? The H7s are extremely well worth the price and comfort if you are looking for a more luxurious option with solid material construction and lambskin leather cans. It's also aesthetically one of the best over ear bluetooth headphones we have ever come across – no doubts about that. The sound signature on the H7s are very finely balanced and pumps music with bass impact even when bluetooth connection is turned on, without compromising sound quality. All these combined, and the extra-long battery life (of 20 hours) makes the H7s one of the best bluetooth headphones on the go.
#7 Master & Dynamic MW60 Over Ear Bluetooth Headphones
Built for serious audiophiles who want high quality audio, bluetooth and luxury, the Master & Dynamics MW6O is one of the best over ear bluetooth headphones in the premium range. Apart from Aptx high quality audio and Bluetooth 4.1, it has technical features including a 4x industry average signal range and a 16 hour rechargeable battery. The headphone itself has a heavy grain premium cowhide on the headband exterior surface and ear cup insets, and soft lambskin on the headband for luxurious comfort. The headphone also has stainless steel foldable hinges for portable use. In sum, the MW60 has flawless construction and workmanship, and you can tell that no expense was spared in selecting the best top-shelf quality materials.
The sound quality of the MW60s exceeded our expectations for a bluetooth headphone – the bass sounds tight and punchy and not over emphasized, highs are detailed and crisp, and the headphones themselves have good sound staging and imaging. The sound is excellent when compared to most bluetooth headphones, and the ear pads do provide an excellent seal, allowing very little leakage. That said, these headphones have quite an analytical sound signature and may not fare as well in the bass department, although they do give substantial separation in the music and you can really pick out the individual instruments in a classical piece. Note that they have premium sound and are naturally low on bass, but you can raise the volume and tweak the source EQ to pump out bass they will handle it flawlessly. These headphones are capable of working without power when connected to a source.
The MW60s have a solid bluetooth connection to your mobile device for playback and conversations. We found that there was excellent quality of the incoming voice on the other end when using the bluetooth microphone in a quiet environment. The bluetooth range is relatively long when connected – it has a longer range than the Sennheiser Momentum 2.0 (30 feet) but a shorter range than the Plantronics Back Beat Bro (60 feet). The battery is powerful enough to last all day under heavy use and under a single charge.
The comfort of the MW60s is phenomenal. Apart from having a luxurious materials and solid construction, it is very simple and hip looking. The leather ear pads are comfortable even for long periods of time and do not produce any ear fatigue when worn. You can really feel the effort in the craftsmanship and the quality of the materials.
The Verdict? The Master & Dynamic MW60s are one of the finest and best over ear bluetooth headphones in the premium range, and are amazing if you want to hear everything in a balanced and fresh tone. That said, these headphones give you the flexibility to push them to the limits by adjusting the source EQ settings and can handle the music output exceptionally well. The bluetooth range on the MW60s is good and longer than 30 feet, and connects easily to your mobile device with Aptx and bluetooth 4.1 for quality audio streaming. Overall, the quality and construction of these cans is exceptional. If you are looking for a premium headphone with the best comfort and sound performance available, the MW60s is a serious contender for the top spot.
#8 Plantronics BackBeat PRO Over Ear Bluetooth Headphones
The Plantronics BackBeat Pro are some of the best over ear bluetooth headphones in terms of sound and audio performance. It has high quality audio with rich and lifelike audio delivering rich bass, crisp highs and natural midtones. It also features noise cancelling technology to block out background noise while working or travelling, and multiple device sync technology to listen to a movie or answer calls on your smartphone. The Plantronics BackBeat Pro has extremely long lasting battery life, providing up to 24 hours of listening while providing 330 feet of Bluetooth range. It also has super soft 'pillow' earcups to provide lasting comfort while cancelling and isolating background noise. In sum, the BackBeat Pro is an all-rounder headphone with many impressive features that delivers top-notch sound.
The BackBeat Pro has a unique sound signature – their overall sound is at the same time powerful enough for rock and other energetic music, clear and balanced for classical and jazz, soft and pleasant for chill out and soft pop. These bluetooth headphones have a little boost in the bass, and we felt that it presents just enough bass without being too overpowering and of quite good quality, with enough punch and comes out clean, controlled and detailed. Some other bluetooth headphones we reviewed offer more quantity but very few headphones do it with this quality. That said, you can always tweak the EQ settings to increase or reduce the amount of bass depending on your needs. The BackBeat Pro responds quite well and can bring out some serious bass when required.
These headphones are more gentle on the mids, but have enough to build a bridge along the sound, so that the listening experience is overall pleasant and harmonious. We really liked its sound signature with the soft mids, and they definitely do not sound cold or V-shaped and have depth and presence. The highs are excellent – clear, detailed and abundant. We really liked how they perform on the highs and did not feel any harshness to the sound. All in all, the sound performance on the BackBeat Pro is simply outstanding with very good detail and separation. We were quite surprised to hear sound performance of this magnitude considering that these are bluetooth headphones.
The soundstage on these cans is airy, fresh and spacious enough to make you feel that the sound does not come "right into your face". This is actually one of the features where these headphones really excel – we were quite surprised to find a bluetooth headphone with such good sound stage.
Comfort wise, we felt that these headphones did not feel heavy at all and go over the ears perfectly. If your ears are no longer than 5.5cm (the inner diameter of the earpads), you should have no issues using these cans.
These headphones also come with a multitude of functions including active noise cancellation, multiple connection for connecting two devices simultaneously. The noise cancellation has no audible hiss or any noticeable alteration of the sound signature. You can deactivate this function if you do not need it and the headphones will still play as per normal. Furthermore, it comes with a head sensor which pauses the music automatically when you wear the headphones off or when you quickly take them around your neck. We found that this a really cool function that adds to the convenience.
The Verdict? The Plantronics BackBeats Pro is well and truly an incredible option for those who want excellent audio performance, bluetooth, extended battery life and comfort to boot at an extremely affordable price. It's hands down one of the best over ear bluetooth headphones you can find in the market at such an affordable price range, and includes almost every function including noise cancellation, head sensors and multiple bluetooth connectivity while delivering a phenomenal audio performance. If you are looking for a multi-functional headphone that has it all at an affordable price, the Plantronics BackBeats Pro has to be it.
#9 Ghostek GHOHP001 Over Ear Bluetooth Headphones
The Ghostek GHOHP001 is an excellent headphone which represents value for money and delivers HD crystal clear sound with bass sensitive drivers. Selling at less than $100, it's one of the best over ear bluetooth headphones at a cheaper price range, but delivers quality and functionality on the same level as its more expensive counterparts. These headphones feature bi-directional noise reduction technology so that you can listen to CD quality sound. It also comes with APTX Bluetooth 4.0 which provides quality streaming for your audio files. You can connect these headphones to virtually any Bluetooth enabled device and it will pair instantaneously. There's also a microphone in the ear cup that lets you take calls without having to remove the headphones.
The build quality of the Ghostek is solid, simplistic and designed to be extremely comfortable. The physical construction of the headphones has soft leather cushions that fit comfortably over the ears. The headband is comfortably padded and the length is adjustable so that the ear pads sit comfortably centered. These headphones are also foldable bluetooth headphone suitable for compact storage, and come with a nice storage case with the headphones which is an awesome feature.
The headphones themselves look great and have a genuine feel for quality. The surfaces feel finished and the overall construction feels sturdy. They have a solid weight to them and are convenient to use. The square over ear cups fitted perfectly over the ears without any discomfort. The cans themselves feel soft and do not warm up your head.
These headphones are one of the easiest to pair up with any Bluetooth device. The dual pairing feature is also super convenient – you can connect your laptop to these headphones and still be able to take a call on your phone without having to continually re-pair the devices. These headphones come with an analog audio jack, power and volume multi-controls which makes it easy and simple to use. The battery life on these headphones is excellent – you can use them for many hours in a day and still not run out of battery.
The sound quality of the Ghosteks was what blew us away. These headphones punch a surprising amount of bass and an equal amount of clarity. The mids and highs are crisp and detailed, and the overall sound experience is smooth and pleasant. We were surprised at how good all the sound ranges were and that such amazing audio performance was coming from a bluetooth headphone at this price range. There was also no distortion from these headphones even at loud volumes. We were very impressed with the treble and bass response on these set of headphones.
The Verdict? If you are in the market for the best over ear bluetooth headphones at a cheaper and affordable price range below $100, the Ghosteks are undoubtedly among the very best. Their audio performance, bass and treble response is top-notch and can easily rival $200-$300 set of headphones. In fact, we were quite surprised to find headphones of such quality and solid construction in this price range. They are extremely comfortable to wear and do not cause listening fatigue. All these combined with the bluetooth features and APTX pairing makes these headphones an incredibly valuable find.
#10 JBL E50BT Over Ear Bluetooth Headphones
The JBL Synchros E50BT is JBL's signature bluetooth headphone with PureBass performance and premium 50mm drivers that deliver full spectrum sound with uninhibited clarity and powerful bass. It has an incredible built-in, USB rechargeable lithium battery that provides a whopping 16 hours of uninterrupted listening and also an aux cable option for passive listening. The ear-cup based microphone with echo-cancelation technology allows for hands-free calling and good connection to your wireless device for clear hands free calling. It also comes with built-in Share Me technology allowing you to share your content with another set of headphones simultaneously. An ergonomic headband and protein leather ear-cushions provide ultra-comfortable fit and noise isolation. Overall, it's one of the best over ear bluetooth headphones produced by JBL at a very affordable price.
The sound performance on the E50BTs is incredible. It offers a very clean listening experience that does not sound overly clinical but well balanced and fine-tuned after a few hours of burn-in. The PureBass feature does accentuate the bass slightly but a more effective option is to adjust your equalizer, which the E50BTs handle really well. The highs and mids are crisp and leaning towards a warm signature. The audio range on these 50mm drivers is very wide and the sound separation is decent. The soundstage on these cans is slightly better than other closed back headphones. We would say that the E50BTs have quite an exciting sound signature geared more towards rock and pop style music.
Using the bluetooth connection on these headphones is relatively simple. Upon turning on the headphone by pressing on the bluetooth button once, it blinks in red and white which goes to discovery mode to connect with other devices. If you've paired the headphone before, it'll automatically attempt to connect. This is a very convenient feature because all you have to do is switch on bluetooth on your mobile device and it connects automatically. Then the light blinks in white occasionally to indicate the bluetooth connection.
The JBL connects to your mobile device without any interruptions and produces very good sound performance with decent bass. We found that the bass on these headphones not as heavy as Bose or Beats, but it's not weak at all. The headphones themselves sound slightly bright and nice when you raise the volume, and produces no distortion at higher volumes. That said, these hadphones may be loud enough for others to hear due to their closed back design, so you may want to adjust the volume down in quieter places. The 50mm drivers are pump out ear-deafening volumes at maximum output.
The E50BTs are very comfortable headphones and will fit over your ears easily. It looks very stylish in our opinion and has a nice solid construction. It also has a large dial on the left cup with buttons and an intuitive interface which is pretty easy to use once you familiarize yourself with it.
The Verdict? The E50BTs are JBL's flagship bluetooth headphones and definitely one of the best over ear bluetooth headphones available at an affordable price. It pumps out decent audio with impactful bass, although we felt that the PureBass function only slightly accentuates the bass; the better option would be to adjust the equalizer. The bluetooth connection on these headphones is solid and very intuitive to use. We also liked the overall construction and stylish look of these headphones. At this price point, the E50BTs are definitely one of the best over ear bluetooth headphones in this category.
Special Mention: Parrot Zik 2.0 Over Ear Bluetooth Headphones
The Parrot Zik 2.0 is one of the smartest, stylish best over ear bluetooth headphones available in the market. The Zik 2.0s boasts several improvements over the earlier generation: it is 17% lighter, the padded headband is thicker and more space is provided for your ears due to the memory foam cushions. It also comes with a free Parrot Zik 2.1 app for you to enjoy Parrot Concert Hall effect, artist presents and share your favorite settings with other Zik users. The Zik also comes with adaptive noise cancelling and stunning sound performance with 32 Bits processing. The smart touch panel and bluetooth audio streaming are also seamless and easy to use. Furthermore, it also comes in different color options to fit your style. All in all, the Parrot Zik 2.0 represents a neat package for those who want a more stylish option together with bluetooth technology.
The sound performance on the Zik 2.0 is phenomenal in part due to its excellent noise cancellation. It is equipped with a stunning 8 microphones dedicated to filter out ambient noise. When compared to the Bose QC 25s and the Zik 2.0 on the plane, it was clear that the Zik 2.0 had superior noise cancellation – you will not be able to hear people around you talking. The Ziks are probably the best type of bluetooth headphones suited for airplane travel due to its excellent noise cancellation technology. The Zik 2.0s produce wonderful sound quality once engaging the equalizer (without the equalizer they may sound flat). The mids and highs are crisp and clear, and you can really ramp up the bass on these headphones on the equalizer and they will shine. It's a very versatile headphone with the flexibility of allowing you to adjust the output settings according to your listening needs.
The Zik 2.0s are one of the most advanced headphones available in part due to their app which works on both iOS or Android phones and is highly customizable. This is why the Zik 2.0 is one of the best over ear bluetooth headphones with plenty of custom options – beside the EQ settings, the app allows you a variety of concert hall settings that can be adjusted and sound particularly good if you are listening to live music and want more of an effect of being at a concert. In addition, they also have intuitive touch controls on the right earpiece. You can simply tap or slide your finger to adjust the volume and order of the soundtracks. These headphones even pause the music when you take them off – which is a pretty neat function so that you don't miss any beat.
These are one of the most comfortable bluetooth headphones we have tried. They are lighter and noticeably more comfortable than the predecessor Zik 1.0s, and is especially noticeable when you wear them for a couple of hours. These headphones also have a pass through option if you intend to wear these out on the street – they allow street noise in so you can hear while you're riding your bike or walking on a crowded street. The battery life on these headphones lasts a good 6 hours at loud volume. We highly recommend these headphones if you are looking for the best over ear bluetooth headphones for travel – it has some of the best noise cancellation technology and the sound quality is superb. It also has improved sound separation, imaging and impactful bass.
The Verdict? The Parrot Zik 2.0s are undoubtedly one of the smartest and most stylish headphones in the market. What makes them truly stand out is that they are really the best over ear bluetooth headphones for travel with one of the best noise cancellation technologies we ever tested. Furthermore, these headphones come with an app that gives you plenty of flexibility and customization options. They are super comfortable to wear and we highly recommend these if you want a set of headphones for travelling purposes.